We run into a lot of surprises and challenges when we took the ferry from Port Sudan to Saudi Arabia (Port Sudan -Suakin axctualy- to Jeddah). So to help other travellers with this journey we collected all the up to date information about tickets, costs and harbour procedures.
Tickets ferry from Sudan to Saudi Arabia (July 2016)
At the moment there is only one company that sails; Namma Shipping Lines (it is a Nesma company, they don't have a website)
Departure on Monday, Wednesday, Friday from Suakin (close to Port Sudan), Sudan.
The ferry wil arrive in Jeddah, Saudi Arabia.
Tickets can be bought in Khartoum, Port Sudan and Suakin.
Ticket for vehicle – SDG 2200 $158
Ticket for passenger – SDG 875 ($63)
First-class cabin per person – SDG 150 ($11) can be arranged on board at the reception desk.
Motorcycle: It should be allowed to travel through Saudi Arabia by motorcycle
Note: You need to confirm you ticket (before 12 o'clock on the sailing day) at the Namma Office in Suakin – SDG 70 ($5) per ticket, also for the car. Should be around coordinates 19.112629, 37.306214 (ask around for the right office, as we haven't been there).
Advice: you can also drive to the gate of the port and ask for someone who can organise this for you. Police man in the harbour usually also work as fixers for the port procedures. Will save you a lot of time and hassle.
Practical information boarding ferry from Sudan to Saudi Arabia:
Departure time – 7 pm but most of the times it leaves after 8pm or later
Trip takes around 12 hours.
Take your own blanked and towel on board if you take a cabin. (shower is available)
Drinks and food are also available on the the ferry.
If you insist, you can lock you vehicle while on the ferry, you have to unlock it when the ferry arrives in the harbour in Saudi. They will come and get you when it's time to unlock it.
Take out (or lock up) valuables, you are not with the car when it goes through customs
Take your yellow book with you (they wanted to see if we had our vacinations before letting us of the ferry)
It can take a long time before you get of the ship or back to your car, so taken enough food and drinks.
Sudan customs for carnet
Coordinates 19.109612, 37.344816
You get a stamp on your carnet in this building.
Make sure you get a letter in Arabic that your car is cleared. You need this letter to enter the ferry.
Sudan customs for exit stamp paspoort
Coordinates 19.116239, 37.345033
You need an exit form with stamps (blue building outside to get the exit form)
First stamp (light blue) in the building with the blue stairs, one of the offices with the wooden doors
Second stamp (dark blue), outside this building offices with the pink wall (right desk)
Extra form with barcode attached to exit form. Same building with pink wall, desk om the left. Pay SGD 21
Inside the building stand in the long queue for the firth stamp (red stamp)
Then you are ready for an exit stamp in your passport. Inside this building. They need the exit form with all the stamps, 2 copies of your passport and two copies of transit visa.
Advice: As you can see you need to go to a lot of different desks and the desk probable vary from time to time. You can try to do this yourself but we advise you to use an Arabic-speaking person who knows their way around and knows the people inside. It will save you a lot of time and hassle SGD 200 for a fixer. With the fixer it already took us 5 hours in the harbour.
Saudi Arabia customs
Immigration is very easy. Just follow the people and the signs
You are send to customs were you have to collect your car, get insurance and pay port fees
Car insurance 120 Riall ($30)
Port fees 270 Riall ($71)
It took us 6,5 hours from the moment we were of the ferry, till the moment we could drive away with our car. Most of the time was for waiting to get the car back from customs and we needed some extra time because they lost our tentpolls somewere in customs;-)
Musts to optain a Saudi transit Visa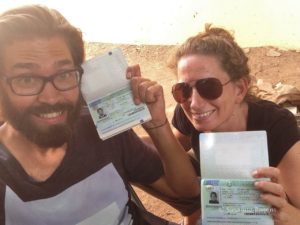 You can get a Saudi Arabia transit visa in Khartoum. Coordinates 15.574339, 32.546669
Most likely you will be send to an agent on the other side of the street. Around coordinates 15.575384, 32.546812. Waleed is very helpful and knows the people inside the embassy. He can fix the visa in a couple of days.
You have to pay for an Saudi health insurance when applying for a transit visa (new rules) The agent will arrange this with the visa. SGD 1400 per person for Visa, Insurance and agent fee ($100)
Your car needs to be LHD (Left Hand Drive) to get a transit visa.
Be aware that you can only get a transit visa. Tourist visa will not be issued
Be aware that the transit visa is valid only for three days. You can NOT overstay
If you travel as a couple you need to be married.
You need to bring passport photos, woman with abaya and hijab.
PLEASE DON'T LISTEN TO TRAVEL AGENTS WHO TELL YOU A RHD (RIGHT HAND DRIVE) CAR IS NO PROBLEM, IT IS A PROBLEM! SAUDI CUSTOMS WILL **NOT** LET YOU ENTER SAUDI WITH A RHD CAR!
Ferry crossing from the Emirates to Iran
When you want enter Iran after crossing the Middle East, you may also want to read our travel information about the ferry crossing from Dubai to Iran.
Share your thoughts, comment bellow
If you have any questions about the ferry crossing or about the Saudi transit visa, don't hesitate leave your comment below. Also if you any information to add to this page, or you just want to share your thoughts, please leave a comment bellow!
Get an impression of Sudan and Saudi Arabia
If you want to see or read about how we experienced our transit trough Saudi Arabia, please visit our blog. The Sudanese visa will permit you to stay at least two weeks in Sudan so don't miss the spectacular sights and hospitality of Sudan.